The Sámi are a people of northern Europe, and Siida is how they organized their societies before being incorporated into the national states. Initially, a Siida was composed of two or three families that stayed together, fishing and hunting. After 1500 B.C., the number of families staying together increased to about ten, joining forces and making an efficient team to hunt wild reindeer. These communities shared a sense of security, solidarity, and loyalty between their members, sharing food with those unable to hunt. Nowadays, Siida is the name for a smaller winter group in today's Sami villages, as the previous social order was dissolved after the 17th century.
Another example of Sami cultural heritage is folklore methods and treatment of health and illness by ordinary people without medical training. They employed ancient empirical folklore using plants and animal parts for medicinal purposes. There were also cold and hot baths for healing and reindeer related cures. Joining the concepts of Siida before the 17th century and Sami folk medicine, the illustration depicts some of the dynamics in their everyday life.
Artist: Julia Nascimento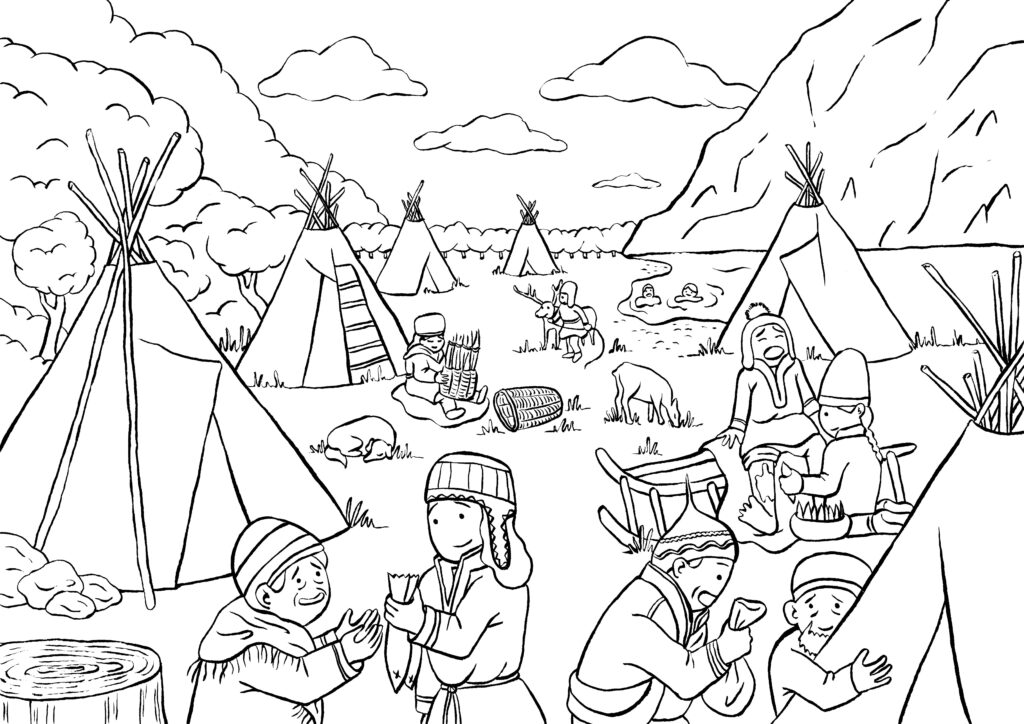 This work is licensed under a Creative Commons Attribution-ShareAlike 4.0 International License.
Click here to learn more about what this license means

Thiss means you are free to: Share — copy and redistribute the material in any medium or format; Adapt — remix, transform, and build upon the material. As long as you: Attribution — You must give appropriate credit, provide a link to the license, and indicate if changes were made; ShareAlike — If you remix, transform, or build upon the material, you must distribute your contributions under the same license as the original.
Want more images?
We will be publishing more images in the coming months. If you would like to be alerted when they are published, please subscribe below.